Let your imagination go wild when making the variations of pesto for your main dish. One of the reasons I love cooking is that they just spark creativity in my mind and always have surprises waiting ahead, be it good or bad. The experience to embrace food philosophy and cater laboriously for our picky mouth buds is such a joy in life when it appears to be a successful outcome. So never give up making unique dishes for yourself; it is a rediscover - get refreshed again and again from making them!
The recipe comes as follow, and everyone can make it at home with ease.
BASIL PESTO
Special Equipment: Food Processor

3 cups packed fresh basil leaves2 cloves of garlic
1/4 cup grated Parmesan cheese
1/4 cup olive oil
1/4 cup pine nuts
1/2 cup chopped fresh parsley
kosher salt, to taste
freshly ground pepper, to taste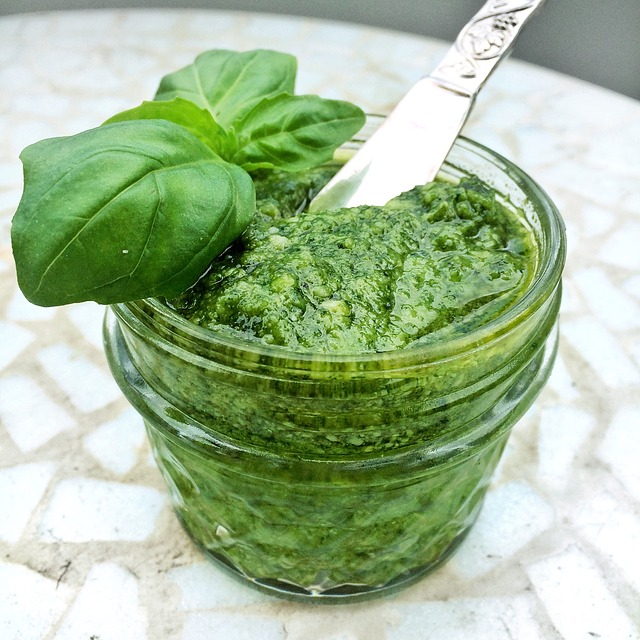 Toast the pine nuts in a skillet at a medium high heat for 5-6 minutes, to spark flavor.
Combine basil, garlic, cheese, pine nuts, parsley and oil together into a food processor and pulse until they get finely blended. Season the mixture with salt and black pepper.
Use it to top the main dish or cool it down for freezing.
If you are going to freeze the pesto, pull the sauce into an airtight container for up to one week, or freeze it up to three months for a great flavor.
For pesto freezers: wisely use an ice cube tray to separate the portion you are gonna use from each other, which saves time and just makes the thawing job a breeze!