A Comparison between Royal Gourmet® GG4201S Gas Grill and MASTER COOK Classic 4+1 Burner Gas Grill
Love grilling Love Royal Gourmet®
Introduction
Royal Gourmet® GG4201S Gas Grill and MASTER COOK Classic 4+1 Burner Gas Grill are similar in appearance and design, and same in the burner number. Interested to know which one is more suitable for you? Read through this article to find the common features and major differences so you can make a decision.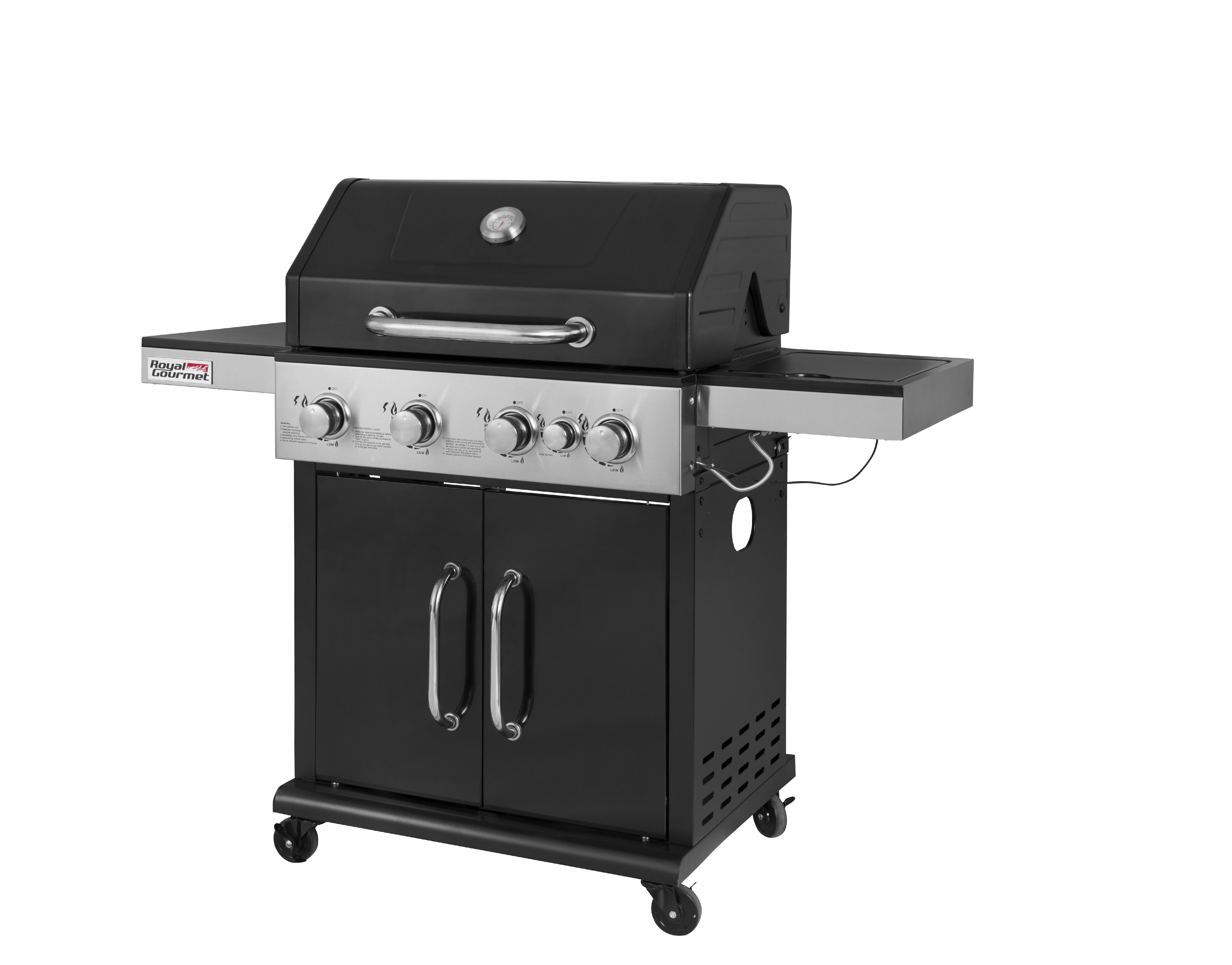 Common Features
1.Lidded Side Burner
Both come with a lidded side burner which can work to cook soup, sauce, and side dishes, etc.
2.Built-in Thermometer
Both have a thermometer mounted on the upper lid for easy control of temperature.
3.Mobility
Both are equally smart in terms of mobility. With 4 casters, you are able to move around the grill with ease.
Major Differences
1.Cooking Area
Royal Gourmet® GG4201S Gas Grill comes with a total cooking space of 625 sq. in., including 469 sq. in. of the primary cooking space (porcelain-coated cast iron grates) and 156 sq. in. of porcelain-coated wire warming rack, whereas the other one only has a total cooking area of 518 sq. in., consisting of 400 sq. in. of the main cooking area (cast iron grates) and 118 sq. in. of porcelain-coated warming rack.
Verdict: we can notice that the Mater Cook one is a lot smaller than the Royal Gourmet one in terms of cooking space. Moreover, the cooking grates for each are constructed of different materials, that is porcelain-coated cast iron grates for Royal Gourmet one and cast iron grates for Master Cook one. Needless to say, the porcelain-coated cast iron grates is superior to the other because it's much easier to clean, and can prevent food from sticking and retain heat evenly. So Royal Gourmet wins.
2.Cooking Power
The Royal Gourmet one boasts 57,000 BTU in overall cooking power, with 4 stainless steel tube burners (12,000 BTU each) and 9,000 BTU side burner, whereas the Master Cook one comes with less power of 48,000 BTU in total, including 4 stainless steel burners (9,000 BTU each) plus 12,000 BTU side burner.
Verdict: We can come to the conclusion that both models come with 4 main burners and 1 side burner, but the Royal Gourmet one is far superior to the other one with almost 10,000 BTU cooking power more. Same burner number, but quite different performance. You are very clear which one is better in this dimension, aren't you?
3.Storage Space
Though both come with 2 fixed side tables for food preparation and an enclosed cabinet for storage of grilling supplies, there are still some differences. The Master Cook one has hooks on its side table for you to hang grilling accessories, but the Royal Gourmet one doesn't. Moreover, for the Royal Gourmet one, tank will be attached to the side board through a hook, whereas it will be placed inside the cabinet for the Master Cook one. Due to this difference, I think the Royal Gourmet one might be able to accommodate more grilling supplies in its cabinet than the other one.
Verdict: Both almost equal in terms of storage space.