Review on Royal Gourmet® MG6001-R
Two Split Lid 6-Burner Gas Grill
Love grilling Love Royal Gourmet®
Overall Impression

To cook for a large group of people, you'll need a gas grill with large cooking space! However, there's one problem here: different types of ingredients usually require different grilling methods, and naturally the temperature for doneness always varies for each ingredient too. Another issue is that if we are to cook several ingredients together in the same firebox, chances are that flavors or smells may be mixed and food flavors will be largely influenced. If you are being bothered by these issues, you should probably give this model a try "Royal Gourmet® MG6001-R Two Split Lid 6-Burner Gas Grill". With its 2 separate fireboxes, you are able to cook different types of foods separately at the same time without flavors being mixed. Of course, it's also possible to adjust the temperature to your desired one within each firebox.
Product Features
Large Cooking Space
This grill comes with 700 sq. in. in primary cooking area, and 260 sq. in. in warming rack. This is spacious enough to accommodate 80 hot dogs at a time! The porcelain-coated cast iron cooking grates are easy to clean, anti-rust and can help to retain food flavor and juice easily!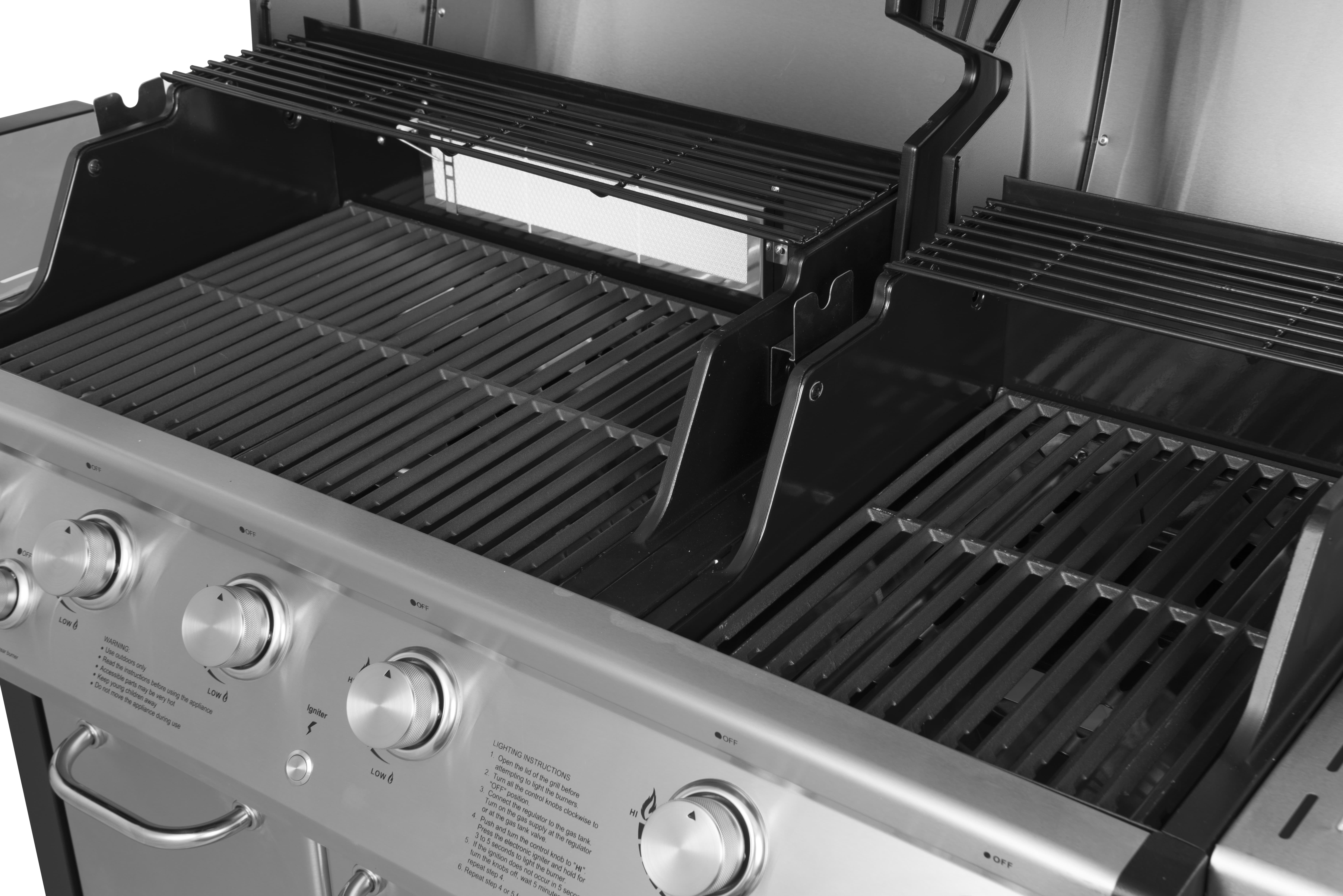 Versatile Two Split Fireboxes
The two heavy-duty stainless steel lids appear to be stylish and magnificent. Each lid comes with a built-in thermometer and a stainless steel handle with a protection cover. Keeping track of the temperature is just so easy, and your hands won't get burnt when touching the handles! Double-layered lids further facilitate heat retention! The smart design of such separate 2 fireboxes will allow you to perform totally different grilling tasks all at the same time, making it more efficient in bringing your guests much more tasty food!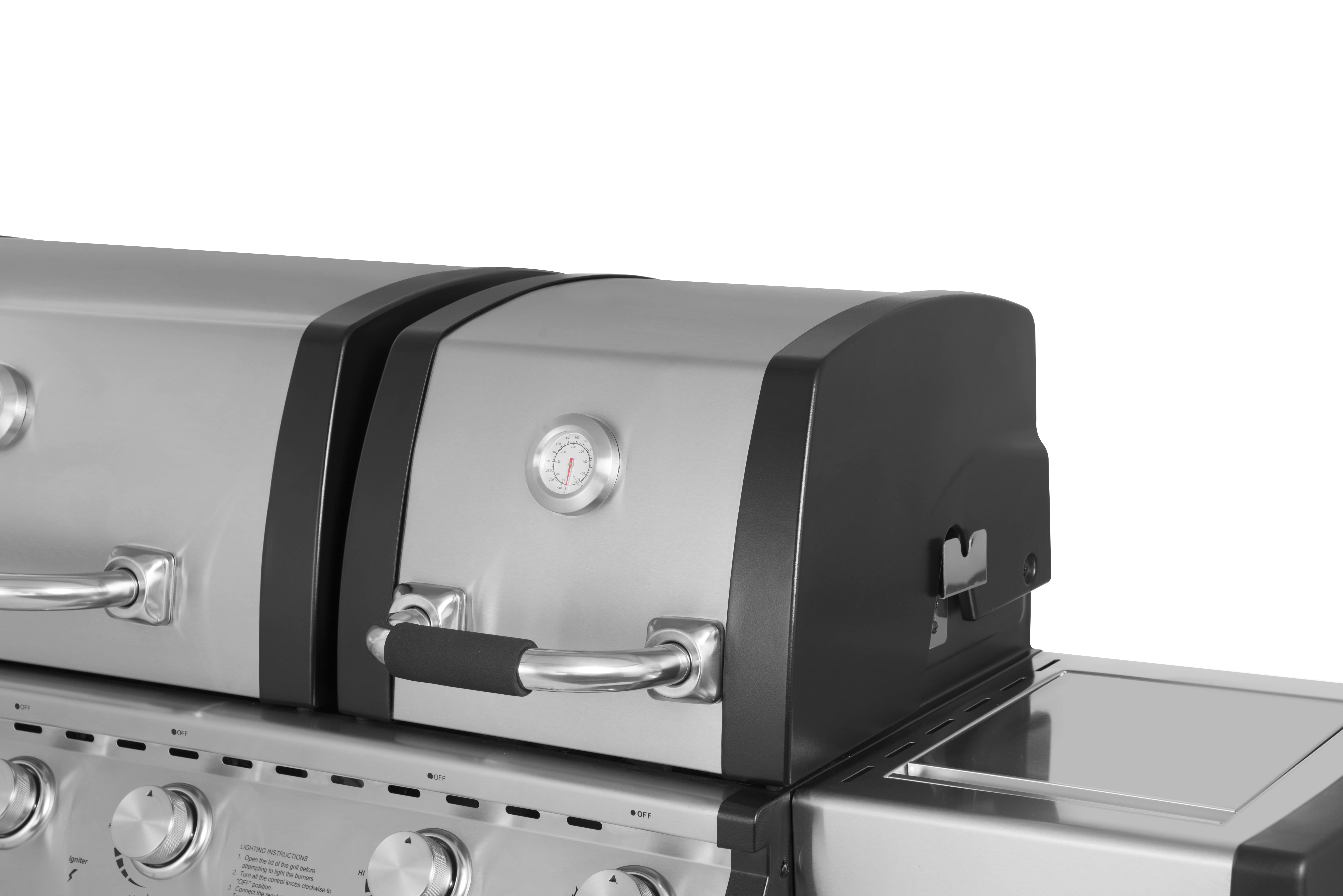 Powerful Cooking Performance
This grill boasts powerful cooking performance with 6 stainless steel tube burners (12,000 BTUs each), a brass side burner (12,000 BTUs), plus an infrared rear burner (12,000 BTUs). That totals a cooking performance of 96,000 BTUs. Impressive! The ceramic infrared sear burner helps to speed up internal heating process, and the lidded side burner serves as a great option for preparing soups and side dishes.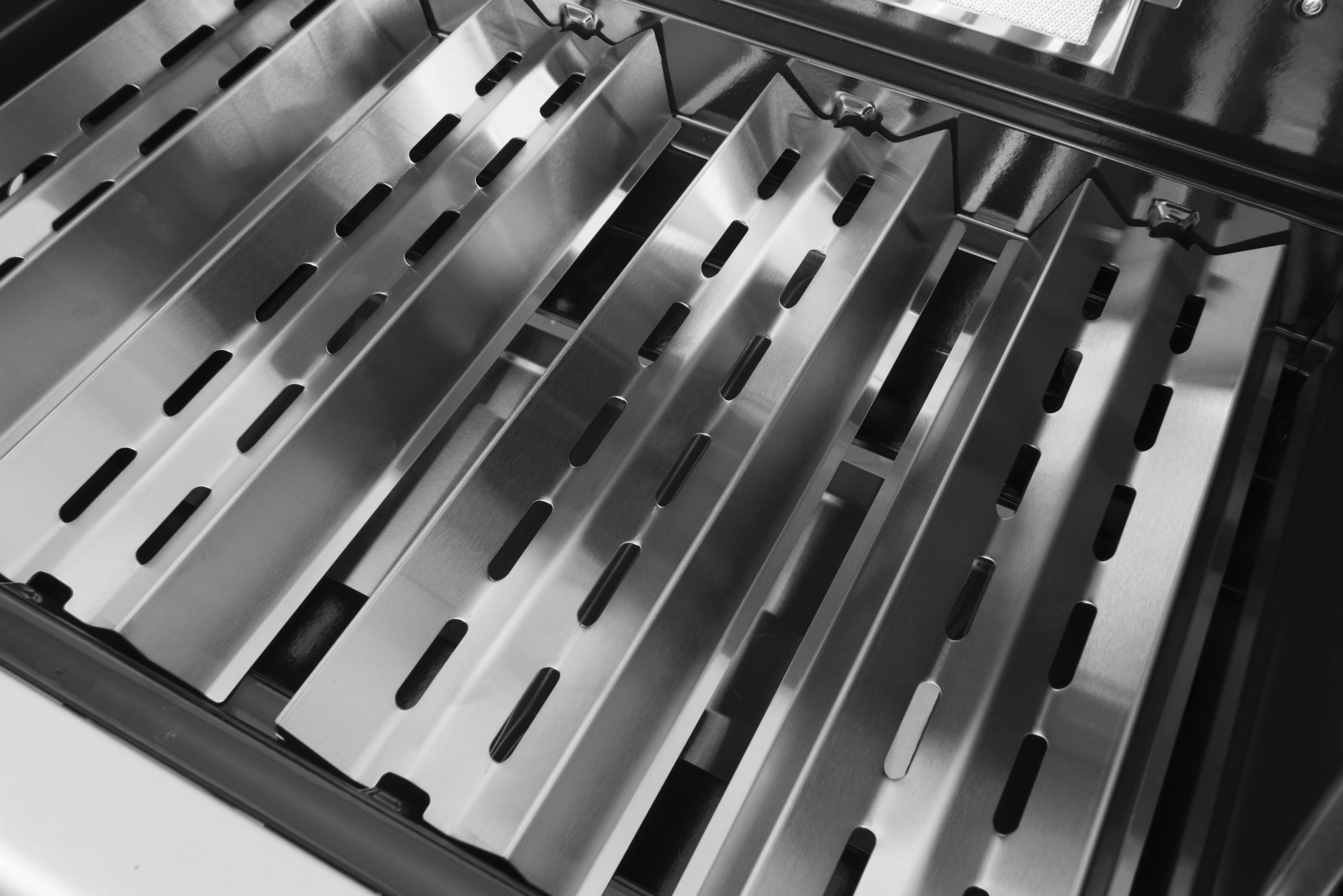 Easy and Quick Start-up
Simply push big knobs on the stainless steel control panel, the grill can be started up instantly and you can expect it to heat up quickly.
Efficient Oil Collection System
The slightly grooved drip tray can channel grease fast into the grease cup, which collects residues for dumping and cleaning after each session.
Sufficient Storage Space
Both side tables come with hanging hooks for you to hang grilling accessories. Moreover, when you open the stainless steel cabinet doors, you'll find plenty of storage space inside for you to place the LP tank and other grilling tools, which is free from rust and dust!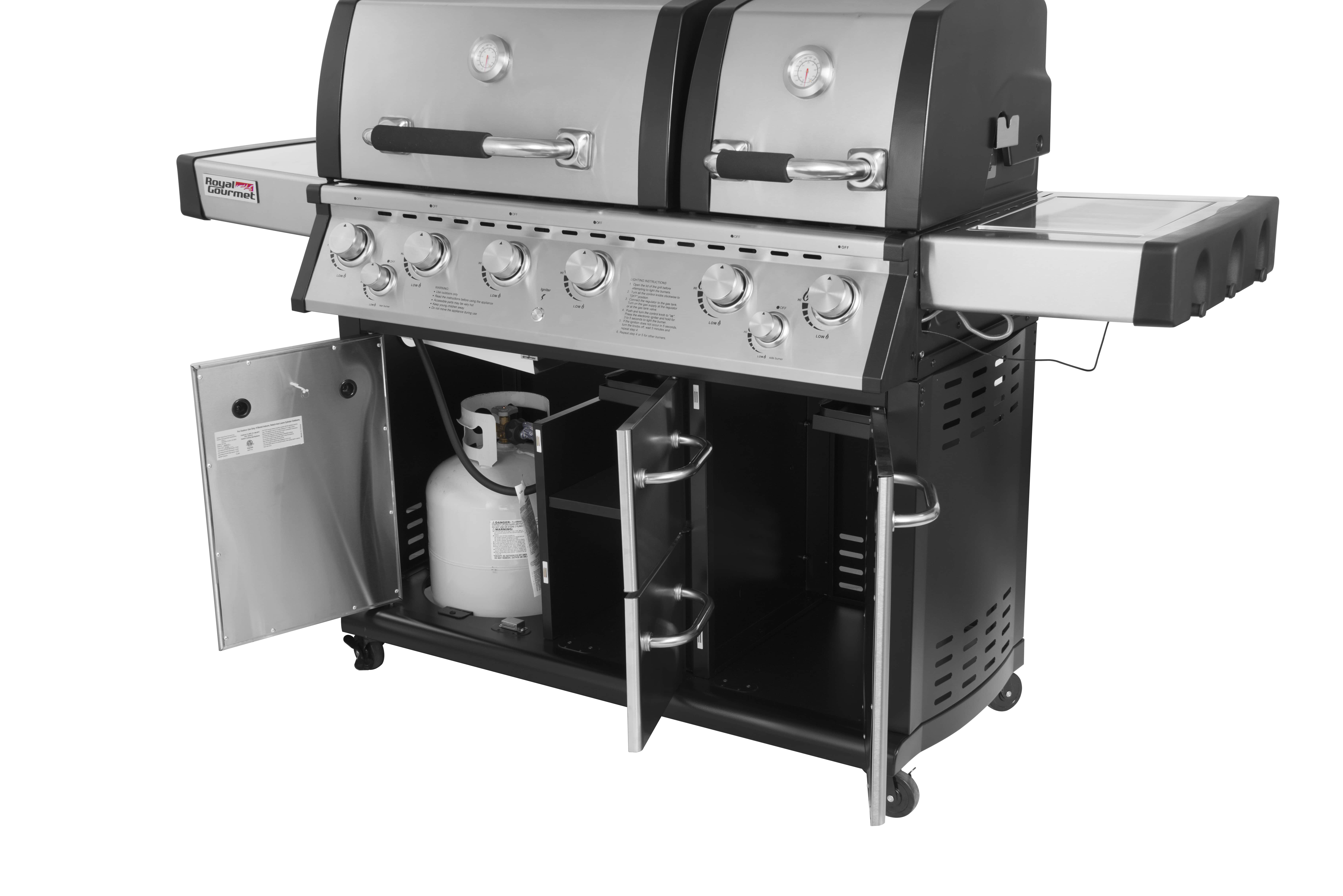 Breezy Movement
Though Large in size, this grill can be moved easily thanks to its 4 casters featuring with brake system. The brake system allows the grill to fix on the floor steadily when wheels are locked in.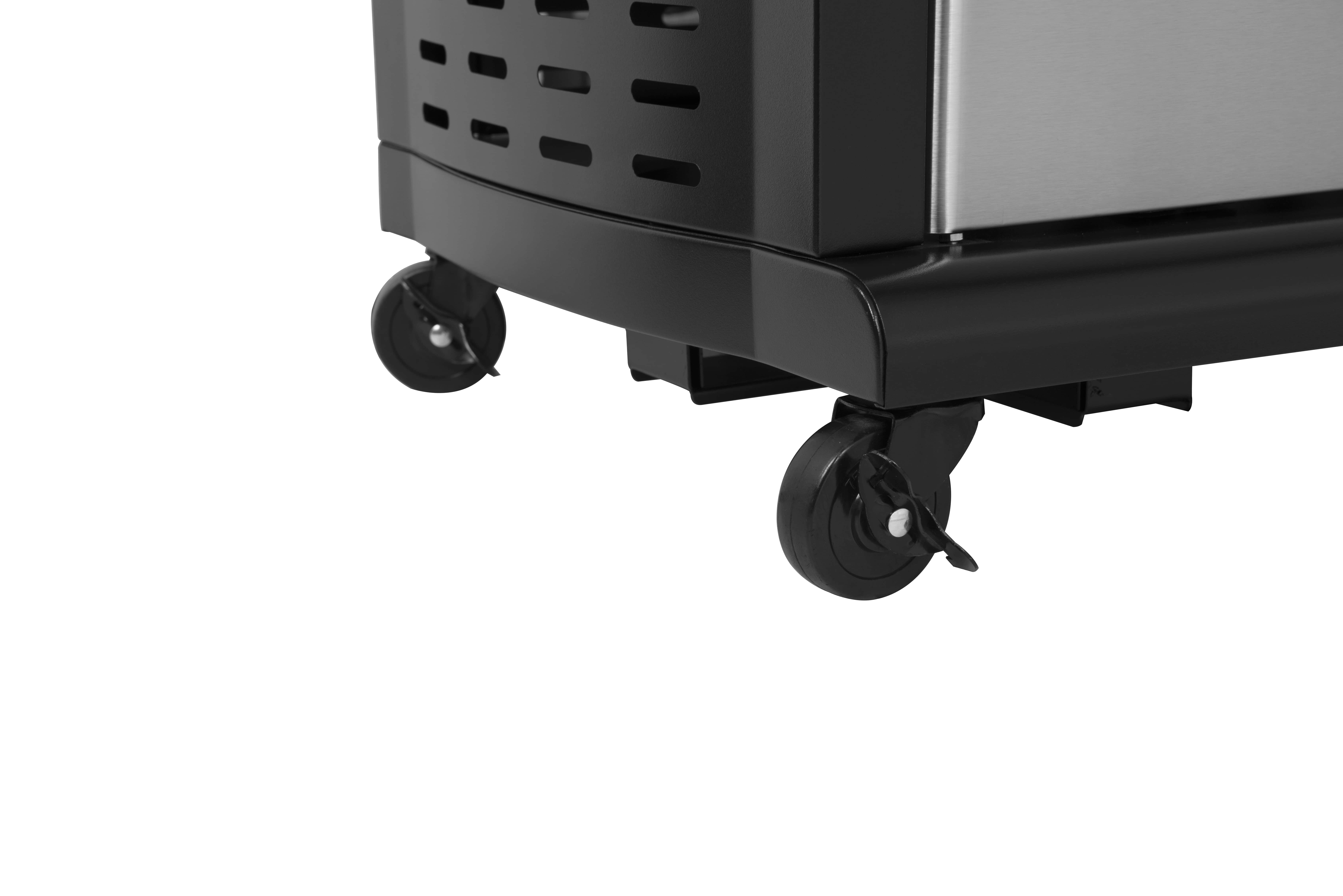 Warranty

All the parts have a one-year warranty which is identical to most brands' gas grill. It comes with an assembly manual, and you can download an owner's manual online. If you can't find the information you're looking for, you can contact Customer Support via phone or email.